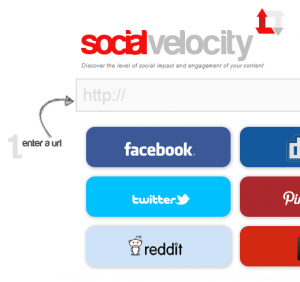 Last week i found myself in the situation when i had a URL which i wanted to know how many tweets, likes and Google+s it had. The problem was, the page didn't have a social share widget that displayed the social stats for that content.
This got me thinking… and that thought became 'Social Velocity'
Social Velocity is a free Social Media Tool that tells you how many tweets, Facebook likes, Google+s a particular piece of content has accumulated over its life time.
The full list of Social metrics the Tool provides is as follows:
Facebook Shares
Diggs
Delicious
Tweeter / Tweets
Pinterest Pins
LinkedIn Shares
Reddit Score
Google Pluses
Stumble Upons
So, if you're asking your self any of the following questions, give 'Social Velocity' ago:
How many tweets have their been for this URL?
How many people have liked or shared this page on Facebook?
How many likes do i have?
How many Diggs have i accumulated over time?
I'll be honest with out, its not the most amzing tool that i've created but with this is just phase one of the tool and I'm looking for ideas on what features would be nice to include. So, if you have any suggestions there's a comment box down there with your name on it!
Likewise, if you have any f4edback on the design I'd like to hear that too. TBH I probably spent more time messing about with the Look and Feel of it than i did coning the main logic!